About
What is the Clayton County System of Care (SOC)
Click Here to View Our Documentary
The Clayton County System of Care (SOC) is an umbrella organization that engages our community for solutions and resources to keep youth in school and out of the juvenile justice system.  We believe that the answers to community-based problems should be driven by the community. SOC focuses include: 1. Providing school discipline alternatives that do not push our students out of school 2. Intervention options that focus on dropout prevention 3. Mental health solutions for our families and youth in need, and 4.  Career training programs to build career ready futures.
For our youth already involved in the juvenile justice system, the SOC supports Juvenile Detention Alternative Initiative (JDAI) core objectives to:
Eliminate the inappropriate or unnecessary use of secure detention
Minimize re-arrest and failure-to-appear rates pending adjudication
Ensure appropriate conditions of confinement in secure facilities
Redirect public finances to sustain successful reforms
Reduce racial and ethnic disparities in an attempt to reduce the negative impacts and restore our youth back to whole, contributing members of our community.
 Our Logic Model
(click on the images below to review our logic model and key)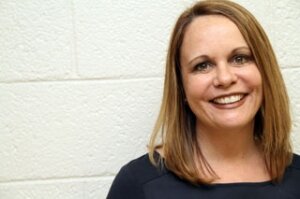 Sheryl  Burright-Teske | Administrator
Sheryl Burright-Teske has fourteen years of experience in identifying funding streams, grant writing, program implementation, and program/grant management in social impact and social impact educational efforts. Currently, Burright-Teske is administering the Robert Wood Johnson Foundation:  Forward Promise grant which she wrote as part of Clayton County's current juvenile justice reform efforts to provide protective buffers and decrease court involvement for male youth of color. She is hired and serves at the pleasure of the Clayton County System of Care Governance Committee and is responsible for carrying out the collective mission of the Governance committee which includes the implementation of a Collective Impact model for a county-wide youth agenda. The collective mission of the Clayton County System of Care is "In school, out of court and on to a positive and healthy future."

Deborah Stone | Monitor
Deborah Stone has a strong child welfare background as she served at-risk youth in the Detroit metropolitan area for a number of years by providing a variety of services including foster care, licensing, foster parent training, and therapeutic services.  Today Stone is the Monitor and oversees delivery of services in order to enhance positive outcomes for children and families and promote positive futures for Clayton County.  Through facilitation of collaborative efforts between Clayton County's Juvenile Court and Public Schools, Stone is able to identify, implement and maintain best-practice procedures for our clients.  Armed with her personal experience of living in a third world country and witnessing the crippling effects of poverty and oppression, Stone is committed to empowering our youth to remain in school, out of court, and on to positive and healthy futures.
Chair, Aundria Cheever, Executive Director (Clayton Center)
Dr. Tamera Foley, Executive Director of Teaching and Learning (Clayton County Public Schools)
John P. Johnson III, Court Administrator (Clayton County Youth Development and Juvenile Justice Center)

Vince Williams, Minister (Higher Living Christian Church)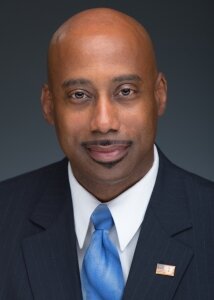 Jeffrey E. Turner, Chairman (Clayton County Board of Commissioners)
John P. Johnson III, Court Administrator (Clayton County Youth Development and Juvenile Justice Center)

Our Work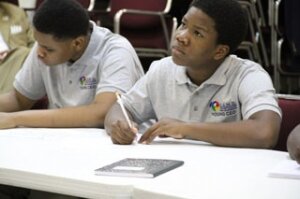 School Based Interventions: SOC Pilot Program
(funded by Robert Wood Johnson Foundation: Forward Promise Grant)-This program compliments our successful School to Court Referral Reduction protocol and provides for additional effective alternatives to suspension intervention for disruptive youth.   The male youth of color served under this grant cannot and should not be arrested, are not eligible for mandated public school interventions, but still have underlying issues that cause them to be chronically disruptive and likely to be suspended.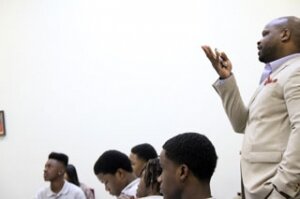 Clayton County Child Case Study Team (Quad C-ST)
A multidisciplinary panel reviews the child's and family's history, situation and circumstances to determine what interventions may be put in place to assist the child and family and reduce risk of further system involvement.  Services are offered through the Panel organizations as well as community service providers.  Children are referred through Juvenile Court Intake, by school social workers, and by court officers working with the family.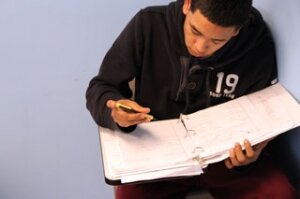 Delinquency Interventions
A deep-end approach for designated felony offenders, the Second Chance Court gives youth who are facing up to 60 months in youth prison an opportunity for redemption through intensive supervision, participation in evidence-based treatment programs, and weekly check-ins with the court.
Impact
Gallery
Links
Seeking Safety: A second chance for a violent 16-year-old.
Seeking Safety: Rethinking the zero-tolerance policy for juvenile offenders.
Under Construction. CCSOC efforts are highlighted in Philanthropy News Digest (PND).
Graduation not incarceration. Clayton News Daily identifies CCSOC as an organization focused on keeping children in school.
Keeping kids with minor problems out of court. The Washington Post discusses Clayton County's pursuit for positive change, as championed by Judge Teske.
Leading the Way in Juvenile Justice. We are Clayton Magazine details juvenile justice reform efforts in Clayton County lead by Judge Teske.
The Clayton County Juvenile Justice Fund, Inc. identifies CCSOC as a collaborative partnership with the Juvenile Court in the innovative and successful creation of The FAST Panel, Quad-C ST, and the SRRP.
Reclaiming Futures recognizes CCSOC.
'Safer Schools' Community Forum
'Clayton Proud' Rally
Reforming Juvenile Justice, the testimony of Judge Teske
Life After Juvenile Detention
CCJC sets standard for Georgia in Juvenile Justice
Timeline
Resources
Organizations whose initiatives and practices contribute to and inspire our work.
Annie E. Casey JDAI
Clayton County Juvenile Justice Fund
The Forum for Youth Investment 
Governor's Office for Children and Families
Criminal Justice Coordinating Council
Juvenile Justice Information Exchange
Robert Wood Johnson Foundation Forward Promise